Chocolate strains of cannabis are renowned for their rich, indulgent aroma, often likened to that of dark cocoa or sweet milk chocolate, distinguishing them from other cannabis varieties. Beyond their primary chocolatey essence, these strains frequently possess a complex array of secondary flavors, including hints of vanilla, nuttiness, or even spicy undertones, shaped by their unique genetics and terpene profiles.
LA Chocolat
THC: 22% – 28%
Effect:
LA Chocolat delivers a multi-faceted psychoactive experience that unfolds in distinct stages. The journey begins with an immediate and intense cerebral head high, characterized by a surge of euphoria. This initial wave gradually recedes, making way for a mellow and relaxing body high. As the mental intensity fades, a mild buzzing sensation sets in, spreading warmth throughout the body. The overall effect is a harmonious blend of mental invigoration and physical relaxation, making it an ideal choice for both recreational and therapeutic purposes, setting it apart from typical chocolate strains.
Smell:
The olfactory adventure of LA Chocolat is a sensory delight. The strain emanates a captivating aroma that combines sweet lemon and vanilla notes, creating an enticing fragrance reminiscent of a freshly baked apple-infused lemon vanilla cake. This aromatic bouquet is further enriched by a subtle hint of melon, adding depth to the overall olfactory experience. The scent is not only inviting but also a precursor to the flavorful journey that awaits, distinguishing it within the realm of chocolate strains.
Taste:
LA Chocolat's flavor profile is a culinary celebration. When consumed, it treats the taste buds to a symphony of sweet lemon and vanilla, mirroring the enticing aroma. The experience is akin to indulging in a luscious apple-infused lemon vanilla cake, with each inhale and exhale offering a delightful blend of flavors. The subtle undertone of melon adds a nuanced complexity, contributing to a well-rounded and enjoyable taste that lingers on the palate. LA Chocolat not only captivates the senses with its aroma but also delivers a flavorful and satisfying smoking or vaping experience, distinguishing itself among other chocolate strains.
Introduce yourself to the plush, sweet comfort of Marshmallow OG with our exclusive pack of five original mini joints, each filled with 0.5 grams of this indulgent strain.
---
Chocolope
THC: 18% – 21%
Effect:
Chocolope, a sativa-dominant hybrid with a composition of 95% Sativa and 5% Indica, offers a captivating journey with its unique characteristics. Boasting a high THC concentration ranging from 18% to 21%, it stands out as a strain of remarkable potency. The effects of Chocolope unfold in a smoky, chocolaty flavor experience that holds an enticing grip on the smoker. This strain is particularly well-suited for those seeking relief from anxiety and a boost in appetite. The uplifting and energizing effects make it an ideal choice.
Smell:
The aroma of Chocolope is a sweet and enticing symphony, offering a delightful treat for the senses. The strain's sweet scent is complemented by a hint of sourness, creating an aromatic profile akin to a tempting and indulgent sour treat. This olfactory experience distinguishes Chocolope within the realm of cannabis strains, making it a standout choice among those exploring the diverse world of chocolate strains.
Taste:
Indulging in Chocolope is a flavorful experience that mirrors its enticing aroma. The strain treats the taste buds to a unique combination of smoky and chocolaty notes, providing a distinct and pleasurable flavor profile. This flavor journey, complemented by its sweet and sour undertones, makes Chocolope a delightful choice for those who appreciate a nuanced and enjoyable taste. Whether smoked or vaped, Chocolope stands out among chocolate strains for its exceptional sensory experience.
---
GMO Cookies
THC: 20% – 24%
Effect:
GMO Cookies, stands as a heavily indica-dominant hybrid with a genetic makeup of 90% indica and 10% sativa. Born from the potent Chemdawg X Girl Scout Cookies strains, this strain is celebrated for its intensely sedative high and super pungent aroma. The effects of GMO Cookies are truly remarkable, offering a long-lasting experience that elevates the user to a heightened state before gently guiding them into a deep and peaceful sleep. The high induces total relaxation and a lifted feeling, permeating both mind and body with heavily sedative effects.
Smell:
The aroma of GMO Cookies is a defining feature, with a super pungent and heavy scent that lingers in the air. The dominant notes include a savory garlic essence, accompanied by hints of spicy coffee.
Taste:
True to its name, GMO Cookies presents a deliciously savory flavor, with a pungent spicy exhale that lingers on the tongue well after the final toke. The taste experience is both unique and memorable, making each inhalation a flavorful journey.
If you're looking for a potent indica strain, look no further than Monster Cookies – Mini joint infused+kief. This cannabis variety is renowned for its intense effects, which provide a powerful combination of euphoria and relaxation.
---
Chocolate Chunk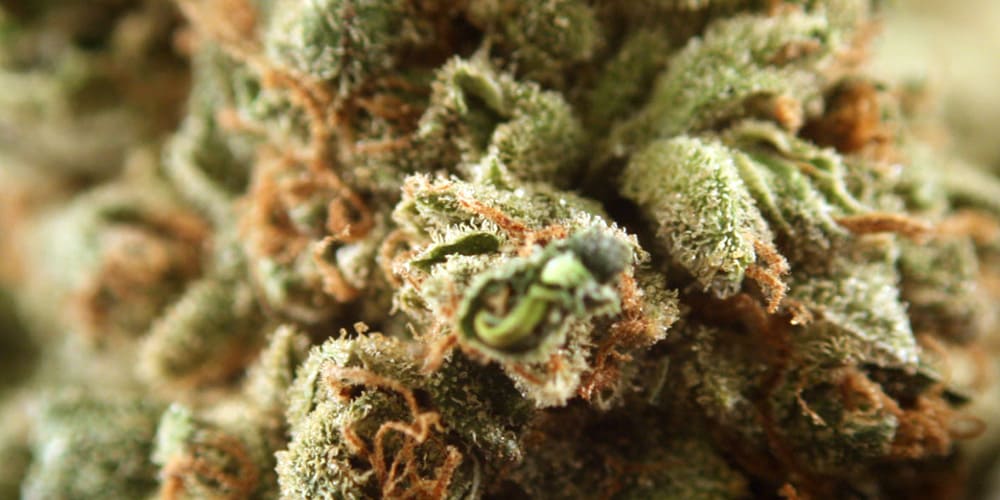 THC: 20% – 23%, CBD: 3%
Effect:
Chocolate Chunk, a 100% pure indica strain, is a descendant of the renowned Afghani strain, delivering a robust and delectable experience. With THC levels ranging from 20% to 23% and a CBD content of 3%, this strain stands out as a potent choice for various therapeutic purposes. The effects of Chocolate Chunk are as enticing as its flavor, inducing a soothing experience that settles both the mind and body. The high initiates with a euphoric head rush, instilling a profound sense of happiness and mental calm.
Smell:
The aroma of Chocolate Chunk is a delightful blend of spicy dark chocolate, herbal coffee, and woody pine. The spicy and chocolatey notes, coupled with undertones of herbal coffee and pine, create a complex olfactory profile that enhances the overall experience. This aromatic richness distinguishes Chocolate Chunk within the realm of cannabis strains, making it an appealing choice for those seeking a sensory journey beyond traditional chocolate strains.
Taste:
Indulging in Chocolate Chunk is a treat for the taste buds. True to its name, this strain offers a sweet and chocolatey flavor, complemented by hints of rich nutty coffee and earthiness upon exhale. The flavor profile is a harmonious combination of sweetness and depth, making each inhale and exhale a pleasurable experience. Whether smoked or vaped, Chocolate Chunk stands out among apple strains for its distinctive and flavorful taste, providing a satisfying alternative for cannabis enthusiasts with a penchant for unique sensory experiences.
---
Chocolate Hashberry
THC: 28%
Effect:
Chocolate Hasberry, a rare and evenly balanced hybrid with a genetic composition of 50% sativa and 50% indica, is a product of the delectable union between Chocolate Kush and Blackberry Kush. This captivating hybrid boasts an impressive THC level, averaging around 28%. The effects of Chocolate Hasberry are as enticing as its genetic lineage. The high begins with a rush of euphoria, inducing a sense of happiness and upliftment, perfect for a lazy afternoon. As the experience progresses, a relaxing overtone sets in, leaving you in a state of contentment and slight sedation.
Smell:
The aroma of Chocolate Hasberry is a delightful composition that mirrors its flavorful profile. An earthy hash overtone takes the forefront, accented by notes of chocolate berries and spice. This aromatic combination adds depth to the olfactory experience, making it a standout choice among cannabis enthusiasts exploring diverse options beyond traditional chocolate strains.
Taste:
True to its name, Chocolate Hasberry treats the palate to an irresistible flavor profile. The taste is characterized by super spicy hash notes, complemented by the richness of chocolate and the sweetness of berries. This unique combination makes each puff a flavorful journey, setting Chocolate Hasberry apart as an enticing option among cannabis strains.
Experience the Exquisite Blend with Biscotti x Kush Mints Premium Flower. Immerse yourself in the ultimate cannabis experience, where the richness of Biscotti meets the refreshing coolness of Kush Mints.