Introducing "5 Original Mini Joints" - a refined choice of five 0.5g joints, perfect for a quick, delightful experience. Featuring a diverse selection of strains including Alien OG, Blueberry, High Octane, Kool Aid, Lemon Cherry Gelato, Marshmallow OG, Strawberry, and Watermelon Zkittlez, each offers a unique, premium taste.
Crafted with Premium Flower and Natural Rolling Paper, these joints come in Indica, Sativa, and Hybrid varieties, meeting every preference. Experience relaxation, energy, or a harmonious blend, elevating each moment to the extraordinary.
Elevate your cannabis consumption with APE Pre-roll Blunts. Each blunt is skillfully made and weighs 2.2 grams. It is packed in a sleek and handy flask. APE Blunts are designed for maximum pleasure. Each blunt comes with a glass tip and is neatly rolled in smooth hemp paper, providing a smooth and pleasant smoke.
It doesn't matter if you are an experienced stoner or just starting out, APE Pre-roll Blunts offer a favorable and simple method to try the flavors and effects of marijuana. Enhance your marijuana consumption with our carefully crafted Ape Blunts and uncover a world of blissful feelings and pleasure.
Embrace the ultimate convenience and versatility of cannabis consumption with our APE Vape Cartridge. The cartridge is pre-filled. It contains 1.1 grams of cannabis extract. The cartridge easily connects to APE compatible vape battery, turning it into a complete vape pen.
 Selecting from a number of options, each cartridge delivers a special consumption. Whether you crave the sweet, potent, or classic, there is a vape cartridge for different tastes. Experience the simplicity and pleasure of vaping with our APE Cannabis Vape Cartridge, providing superior flavor in every puff. Enjoy the freedom of choice and practicality with our APE Vape cartridge.
Enjoy our APE premium Cannabis Flowers collection. One jar contains 3.5 grams of premium cannabis flowers. For user convenience, each jar is equipped with a grinder.Open the cap and inhale the heady aromas of the best cannabis flowers.
Experience the balanced combination of aromas and flavors that our premium range offers. Boost your cannabis consumption to new heights with our carefully selected Cannabis Flowers. Try these special premium strains.
Week pack — 7 infused pre-rolls
Improve your cannabis consumption with APE Infused Pre-Rolls. Each package contains 7 neatly made pre-rolls, perfectly portioned with 3.5 grams of high-quality weed. These infused pre-rolls are a real treat for cannabis lovers. APE Infused Pre-rolls are the perfect pack for a week of entertainment.
With every puff, you will feel the balanced combination of high-quality components, giving a smooth and aromatic flavor. We are glad to know that APE Infused Pre-Rolls have been named as one of the best products of 2022 by Weedmaps. Treat yourself to the best cannabis and enjoy the APE Infused Pre-Rolls.
Explore the best quality cannabis products with APE cannabis Flowers. APE flowers are hand-picked to meet the highest standards. Each flower has been carefully grown. And each bud is harvested to guarantee potency, flavor, and aroma that exceed expectations. Packaged in a handy 3.5g zip bag, these Flowers are ready to use whenever you want.
To improve the storage conditions for buds, we include a Boveda humidity pack in each set. This allows maintaining the required humidity level inside the package and prolongs the storage life of the contents. Therefore, cannabis terpenes retain their original freshness without losing their flavor and aroma effects. Feel yourself on top of the bliss with APE Flowers and take your cannabis experience to a new level.
 Treat yourself to the pure essence of cannabis with our APE Flowers. Each package is carefully grown hemp flowers neatly packaged in a handy zipper bag. Inside you will find four sealed 3.5g pouches. We took care of improving the storage conditions and filled the packaging with CO2.
 So the flowers can stay fresh longer. For your convenience, we have added rolling paper and a set of filters. So you can enjoy every moment. With a total weight of 14 grams, this product offers you a lasting experience and hours of pleasure. Discover the universe of cannabis and get a great high with our collection of APE Flowers.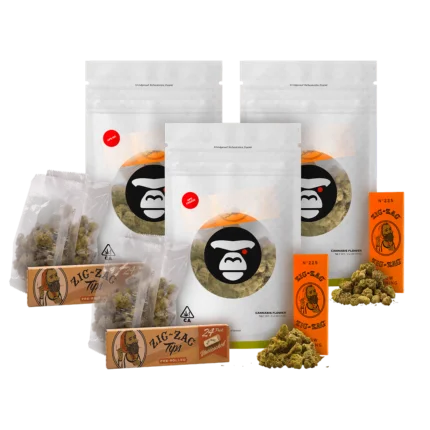 APE Mini joints infused+kief
Treat yourself to the perfect harmony of comfort and force with APE Mini Joints Infused. Weighing 0.5 grams each, these compact delights contain high-quality marijuana and kief for a truly unforgettable cannabis experience.Carefully created, APE Mini Joints Infused deliver a powerful and aromatic flavor with which you will fall in love.
It's no surprise that some of APE Mini Joints Infused have been voted one of the top products of 2022 by Weedmaps.Get ready to rock and enjoy APE Mini Joints Infused, where every puff is proof of quality and skill.
Try maximum cannabis enjoyment with APE Double Blunts. Each of these impressive blunts weighs a generous 2 grams. The product makes cannabis consumption better than no other. Designed with accuracy and care, APE Double Blunts are neatly rolled in hemp paper.
It ensures a fragrant and powerful sensation. We self-pride to offer all of you the greatest.And we are happy to announce that our APE Double Blunts were recognized as one of the top products by Weedmaps in 2022. Get ready to fire up and enjoy the richness of APE Double Blunts, as they provide double fun and double delight.
Discover the excellent balance of comfort and quality with APE Mini Joints. Each pack includes 4 carefully crafted mini joints. Each joint is masterfully rolled with 1.6 grams of quality marijuana.
APE mini joints are a compact and portable choice for marijuana lovers to enjoy their favored strains on the go. With accurate dosing and smooth smoking, APE Mini Joints have earned a place on Weedmaps' Best Products of 2022 list.Enjoy APE Mini Joints and take your cannabis experience to new heights.
Explore "Tiger Vape" Live Resin Bars, a collection of premium disposable vape pens. APE Live Resin Bar will take your weed consumption to the next level. Each disposable vape pen contains 1 gram of high-quality live resin, sourced from the best weed strains.With an elegant and comfortable design, this Live Resin Bar is an easy and discreet way to enjoy the excellence of the Tiger Vape collection.
Whether you're a cannabis enthusiast or a newcomer, APE Live Resin Bar offers rich and flavorful hits that are sure to impress. Voted as one of the best products of 2022 by Weedmaps, Tiger Vape Live Resin Bar is a must-have for the ultimate vaping experience.
Unleash the potency of marijuana in its purest form with our outstanding collection of APE Concentrates. These potent extracts are a concentrated dose of purer plant compounds, providing unrivaled smoking for marijuana connoisseurs. Each gram of APE Concentrates is meticulously processed to ensure exceptional quality and texture.
With their rich flavors and strong effects, these Concentrates have rightfully been named among the best products of 2022 according to Weedmaps.Ideal for connoisseurs and casual users alike, APE Concentrates provide an enhanced experience that is sure to leave you satisfied. Find out the true essence of marijuana with APE Concentrates.
Discover the zingy vaping experience with APE high-performance Vape Battery. This elegant and compact vape battery is developed to boost your marijuana experience to new levels. The powerful 280 mAh battery allows you to take more than 200 puffs without recharging.
The included USB adapter provides convenient on-the-go charging. APE Vape Battery has a compact size of 7510.510.5MM, making it easy to carry and discreet to use. Test express charging, water resistance, and stable heat for a smooth and pleasant vaping experience. Get ready to dive into the world of exceptional weed vaping with APE high-performance Vape Battery.