Get ready for a thrilling ride through the 2023 cannabis landscape! Explore the "Top 5 New Weed Strains of 2023," as we unveil a new era of potency, flavor, and diversity. Step into the world of these ground-breaking strains set to transform your cannabis experience.
Biscotti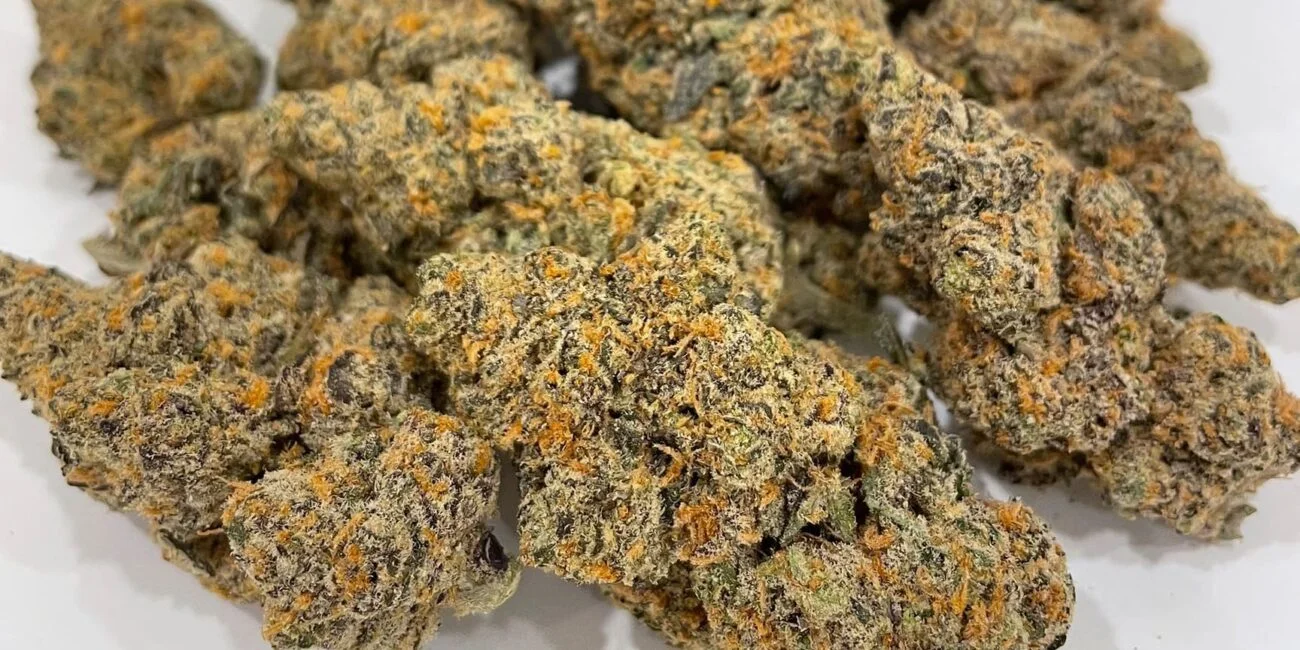 After a single encounter with Biscotti, one of the new weed strains of 2023, you'll probably reserve a permanent spot for her in your grow room or garden. Echoing the delightfully palatable flavor of its namesake Italian cookie, this strain offers a lingering pleasant taste.
The desired characteristic was achieved by our breeders who meticulously crossed parent strains Gelato 25 and Triangle Kush, giving birth to a strain comprising 80% indica and 20% sativa genetics.
Biscotti is not just about alluring flavors; this powerful cultivar comes with a formidable THC content of 25%, sufficient to give even seasoned smokers a run for their money. The rich fusion of fruit, diesel, cookies, and pepper fragrances makes these buds an absolute delight to smoke.
When it comes to cultivation, Biscotti performs impressively both indoors and outdoors. Cultivating her within a grow tent can yield up to 500g/m² after an 8-10 week flowering period. When grown outdoors, she can reach up to 180cm and produce a substantial 550-600g per plant.
Cereal milk
Emerging as one of the most intriguing new weed strains of the year, Cereal Milk offers distinct flavors that are rarely found elsewhere. The unique terpene profile of this strain originates from its parent strains, Y Life and Snowman. This combination not only resulted in a powerful sativa-dominant offspring, but it also imbued the buds with profound vanilla undertones!
This strain yields beautiful flowers exhibiting an attractive blend of purple, yellow, and green hues. Besides their visual appeal, these flowers pack a punch with a robust THC content of 23%, guaranteeing a sustained and invigorating psychoactive experience.
Cereal Milk is a prolific producer, generating substantial colas. Indoor cultivation can yield up to 500g/m², while outdoor plants can produce an impressive 625–675g per plant.
Gushers
Gelato genetics revolutionized the cannabis world with their unmatched terpene profiles and high THC content. But the story didn't end there. By utilizing this strain, breeders managed to develop equally impressive and tantalizing descendants, including Gushers. This new weed strain, predominant in indica, is a product of Gelato #41 and Triangle Kush.
Gushers stands tall with its compact colas, boasting a THC concentration of 24% and a diverse mix of terpenes, offering flavors of cookies, earthiness, and fruits. When you inhale these buds, you'll experience a state of relaxation, euphoria, and uncontrollable fits of laughter.
This strain is perfectly adapted for climates with shorter growing seasons, making it an excellent choice for cultivators in northern regions. Sow her seeds in spacious raised beds or directly into the soil to see her rise to 150cm and yield up to 700g/plant. When grown indoors, she reaches a height of 120cm and delivers 450-500g/m².
Apple fritter
If you've had your fill of smoking gassy, floral, and skunky varieties, then it's time to indulge your sweet palate with one of 2023's top new weed strains, Apple Fritter. This remarkable cultivar, a descendent of Sour Apple and Animal Cookies, ranks as one of the most potent in our entire collection.
Should you be seeking an elevating and creatively stimulating high, you're in for a treat. With a THC content of 24%, this strain paves the way for a state of flow, empowering you to achieve your creative objectives. However, be mindful not to overindulge, as you might find yourself too snack-focused to concentrate.
When grown indoors, Apple Fritter zooms through its flowering stage in just 8-10 weeks, yielding 400-450g/m². Cultivate her outdoors, and you can expect a generous harvest of 450-500g/plant by early October.
Wedding Cake Automatic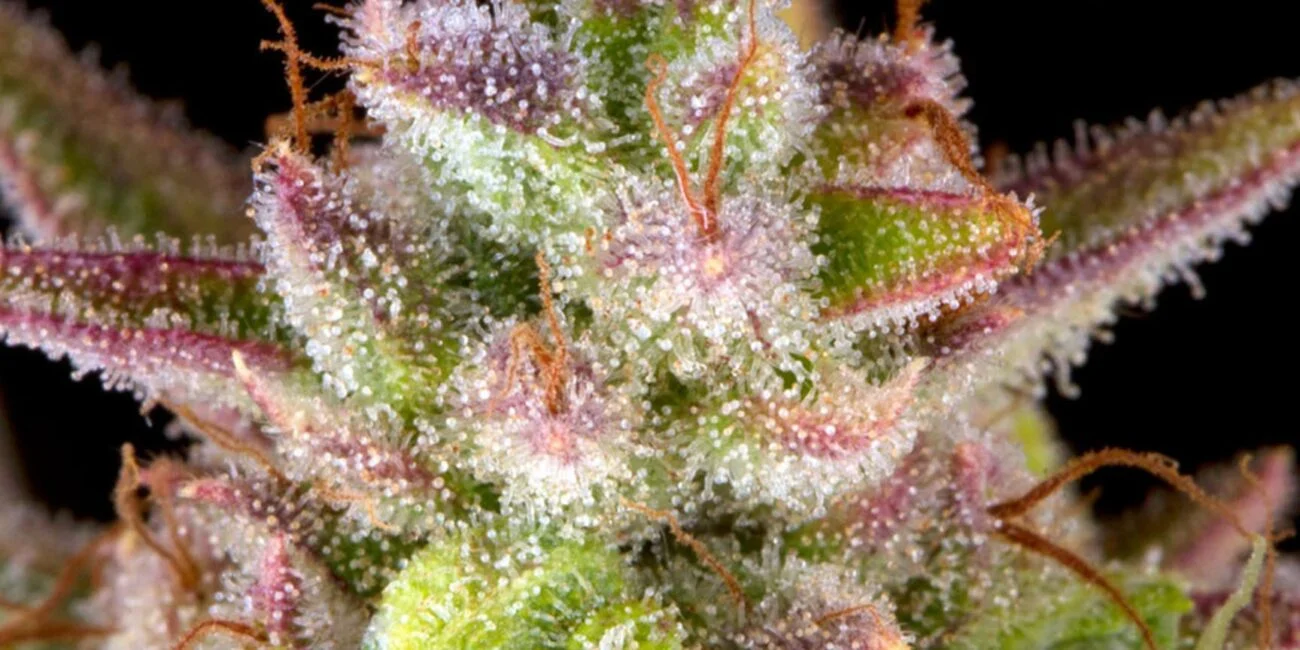 In the 2023 list of new weed strains, Wedding Cake Automatic, one of the new weed strains, combines the premium attributes of the original, all packed into a compact structure with a swift growth cycle.
Before we probe its stealthy growth characteristics, let's take a moment to marvel at its buds. They are densely packed, frosted, and display a beautiful purple hue. It boasts a THC content of 19% and a terpene profile that reveals flavors of pine, candy, and citrus.
Wedding Cake Automatic is perfect if you're constrained by space or if you prefer to keep your green thumb endeavors under the radar. Indoor cultivation of this strain results in a maximum height of 70cm and a generous yield of up to 450g/m² in just 10 weeks from germination.
We spoke about TOP 5 new weed strain in 2023 and also want to share with you the strains from APE, which this year is gaining more popularity:
Gelato
Gelato, also known as "Larry Bird" and "Gelato #42" is an evenly-balanced hybrid marijuana strain made from a crossing of Sunset Sherbet and Thin Mint Girl Scout Cookies. With its balance of indica & sativa, this strain produces a euphoric high accompanied by strong feelings of relaxation.
THC: 16-18%.
Variety: imdica dominant hybrid.
Effect: euphoric, happy.
Symptoms: depression, anxiety, stress.
GELATO [indica dominant] — Sauce Cartridge (1100mg)
Empire cake
Empire Cake, also known as "Empire" is an indica dominant hybrid strain (80% indica/20% sativa) created through crossing the iconic Candy Kush X OG Kush strains. Famous for its delicious flavor and soothing effects, Empire Cake is one bud that you'll want to be a part of again and again
THC: 25-30%.
Variety: indica dominant hybrid.
Effect: calming, happy, relaxing, sleepy.
Symptoms: pain, migranes, muscle spasms.
EMPIRE CAKE — Sauce Cart (1100mg)
Tropicana cookies
This unique strain was developed through the crossbreeding of GSC and Tangie. One can anticipate a citrus-dominated aroma complemented by the flavor and potency typical of cookies. This strain is characterized by its purple-hued buds, subtly interspersed with dark green undertones and accented by orange pistils.
THC: 15-17%.
Variety: sativa dominant hybrid .
Effect: energetic, uplifted, focused.
Symptoms: depression, anxiety, stress.
TROPICANA COOKIES — Sauce Cart (1100mg)
You can also find out about Best strains for pain in 2023.