Indulge in a captivating journey through the world of weed, where innovation, art, and social justice intertwine.
From the thought-provoking Core Social Justice Cannabis Museum in Boston's Jamaica Plain neighborhood to the futuristic THC NYC wonderland in SoHo, this is your guide to captivating cannabis destinations.
Embark on the ultimate cannabis experiences in San Diego and Los Angeles, exploring the rich world of cannabis culture and travel.
Explore museums that challenge perceptions and celebrate the plant's cultural significance, immerse yourself in live music festivals that elevate your senses, and embark on luxury cannabis tours that offer a unique perspective on cultivation and manufacturing.
Let this extraordinary collection of cannabis destinations redefine your perception of the plant, leaving you with unforgettable memories and a renewed appreciation for its diverse beauty.
Core Social Justice Cannabis Museum

Nestled in Boston's vibrant Jamaica Plain neighborhood, the Core Social Justice Cannabis Museum beckons with its mission of change and empathy. As soon as you enter, the Cannfessional booth commands attention – a digital stained glass window adorned with intricate cannabis motifs.
Behind the glass lies a small sound booth, wrapped in cloud-print wallpaper, where a neon chair and dangling microphone await.
Within the museum's walls, powerful exhibits illuminate the far-reaching impact of drug policies on marginalized communities, weaving a poignant narrative around cannabis' social dynamics.
A whimsical wheel of paraphernalia delights with a playful Cookie Monster pipe, while a replica illicit basement grow room offers a glimpse into the clandestine world of cannabis cultivation.
Gazing at the mugshots of those arrested for drug possession, the weight of outdated laws becomes palpable, evoking empathy and a call for change.
Guided by an inspirational team – diverse and driven, comprising 72% women, 82% local investors, and 81% minority investors, with shared experiences of resilience and transformation – the museum embodies the spirit of social justice advocacy.
Furthermore, esteemed curators, including Ivy League professors and bestselling authors, weave their expertise into the fabric of knowledge, enriching the museum's narrative with profound insights. Together, they create a powerful platform for education and awareness.
With an unwavering vision to normalize weed use, the Core Social Justice Cannabis Museum ignites dialogue and empowers visitors to challenge stereotypes.
Moreover, its partnership with the SEED dispensary offers a seamless transition from education to exploration, providing a comprehensive experience for those eager to delve deeper into the world of cannabis.
Step into this empowering space, where history, art, and advocacy converge. Traverse narratives that shape societal perceptions, and let the Core Social Justice Cannabis Museum inspire a renewed outlook on cannabis, social change, and the transformative power of storytelling.
THC NYC: The House of Cannabis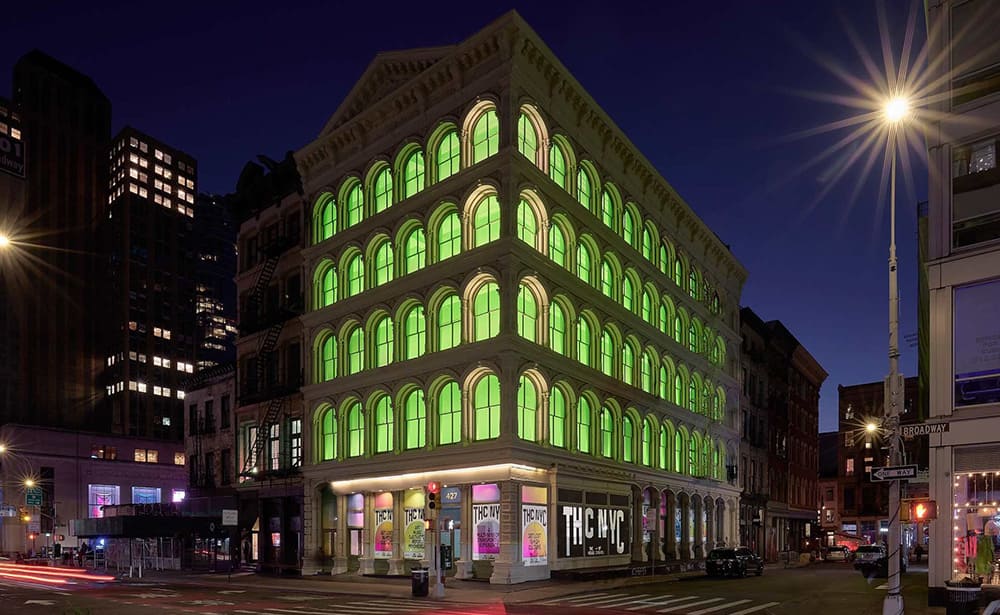 Welcome to THC NYC, a captivating wonderland hidden in SoHo. Disguised behind a 1910 facade, this multi-sensory museum offers a futuristic journey through the enchanting world of cannabis.
Spanning four floors and 30,000 square feet, THC NYC celebrates weed culture while educating visitors. Collaborating with the Drug Policy Alliance, the museum presents moving interviews with those impacted by unjust drug laws.
Notably, 20% of employees are formerly incarcerated, reflecting its commitment to social justice.
The High Culture floor unfolds with a distorted mirror installation called Disorientation, leading to a video tracing 600 years of cannabis history. Inside the hazy room, music, light, and motion combine, creating an immersive experience.
Speaking of an unforgettable experience, we recommend taking a look at Blunts section of our catalog. Various options of blunts will not leave you indifferent, they will give you great effects and an incredibly spent time.
Moving to the Plant floor, visitors encounter an urban grow farm and an interactive olfactory terpenes exhibit. Additionally, they can marvel at mesmerizing macrophotography by Kandid Kush and experience Curren$y's immersive video poem, Seed to Soul.
Furthermore, an art-meets-cannabis exhibit called Art of the Sneaker celebrates the connection between cannabis and sneaker culture, adding another layer of excitement to the entire event.
The Hypnodrome, designed by Benjamin Gordon, offers a guided levitation experience with undulating images and a hypnotic soundtrack. It explores elevated sensations without THC, providing a unique and immersive journey.
Tickets cost $45, but the first floor is free. Enjoy coffee from Sangster's and shop cannabis-related items, while watching glass-blowing demos. Capture memorable moments at the high-minded step and repeat. The experience is backed by captivating photos from cinematographer Ryan Postas' series, The Art of Smoke.
Lose yourself in THC NYC, where time vanishes amid an extraordinary cannabis experience like no other.
And if you want to get an unforgettable experience with THC, we recommend that you try High Octane in Blunt. The high THC level contributes to the tranquility and relaxation you'll feel, making it a dependable solution for conditions like chronic discomfort and sleeplessness.
2023 Cannabis Music Festival
Experience an extraordinary world of live music, delectable cuisine, craft vendors, and CBD products. Join us for an unforgettable event, combining cutting-edge products and captivating performances.
Groove to So Many Monsters' infectious beats, blending diverse musical influences. Brace yourself for Jonathan Kane's electrifying performance, resonating soul-stirring melodies.
Immerse in Shuggabear's soulful sounds, weaving emotions through their music. Then, let The Revival enchant with soulful harmonies and foot-tapping rhythms. Also, experience WickedWeird's unique sonic journey.
Indulge in a culinary adventure with diverse gourmet food vendors, offering street food to exquisite fusion dishes. These tantalizing options will delight and satisfy your taste buds.
Moreover, discover creativity in craft vendors' unique creations, from handcrafted jewelry to intricate artwork, perfect keepsakes for this one-of-a-kind event.
If you want to get an unforgettable experience, then take a closer look at Acai Berry Gelato — Sauce Cartridge. This strain offers a unique fruity and sweet flavors, with a high THC content that delivers a balanced high.
Lastly, step into a wellness world with leading CBD product manufacturers, from soothing oils to invigorating topicals, promoting balance and well-being.
Mark your calendar and immerse yourself in live music, culinary delights, and innovative products. Join us to celebrate the beauty of art, music, and wellness in this transformed experience. Let the festivities begin!
Ultimate Cannabis Grow Facility Tour
Embark on a 5-hour luxury weed tour in San Diego, where an enchanting world of cannabis awaits. Hop aboard our lavish bus for a captivating journey like no other.
Visit a cutting-edge cultivation facility, getting up-close-and-personal with over 20,000 thriving cannabis plants. Witness the entire life cycle of the cannabis plant, from delicate seedlings to flourishing buds ready for sale.
Explore a state-of-the-art manufacturing laboratory, where innovation and science converge to craft premium weed products, from concentrates to delectable edibles.
Next, indulge in your own cannabis on the bus, a private space where you can relax and enjoy, while staying refreshed with complimentary water and snacks.
Finally, engage in cannabis-themed trivia and games, with chances to win exciting prizes, while sharing laughter and forging memories with fellow enthusiasts.
Discover the luxury of cannabis exploration, paired with education and enjoyment. Unravel the beauty of San Diego's landscapes as you delve into the captivating world of cannabis. Elevate your senses on this extraordinary tour.
Cannabis Supper Club in Los Angeles
In Los Angeles, the Cannabis Supper Club offers an exclusive fine dining experience, seamlessly blending cannabis with haute cuisine. Additionally, this unique supper club showcases farm-to-table dining, with California-fresh ingredients as the foundation of each exquisite dish.
Collaborating chefs, growers, mixologists, and event specialists create a symphony of flavors that captivate your taste buds.
Within elegant and private spaces, the dining experience adheres to public consumption laws, ensuring a worry-free indulgence. Strains of cannabis expertly pair with each course, enhancing the dishes in a manner similar to fine wine.
Each supper club is a celebration of creativity and innovation. Moreover, delight in delicate Shigoku oysters complemented by chosen strains, or savor dashi-dusted filet – a fusion of flavors that leaves you yearning for more.
Indulgence takes an elevated form as you bid adieu to typical munchies. Relish decadent culinary creations, each bite a symphony of taste and texture.
Experience the Cannabis Supper Club, where lavish dining meets weed expertise, in a mesmerizing celebration of flavors. Book your exclusive seat for an unforgettable culinary journey like no other.
---
In conclusion, the world of weed and travel awaits, where innovation, art, and social justice unite. From thought-provoking museums to cutting-edge music festivals and exclusive dining experiences, these captivating destinations reshape perceptions and celebrate the plant's diversity.
Embrace an extraordinary journey of cannabis exploration and transformative experiences.